Coaching is defined as "an on-going professional relationship that helps people produce extraordinary results in their lives, careers, businesses or organisations. Through the process of coaching, clients deepen their learning, improve their persormance and enhance their quality of life."
Coaching is forward-looking and goal orientated. It believes that the client is resourceful and whole and is able to to use those resources to find previously unknown options and develop appropriate strategies to move forward.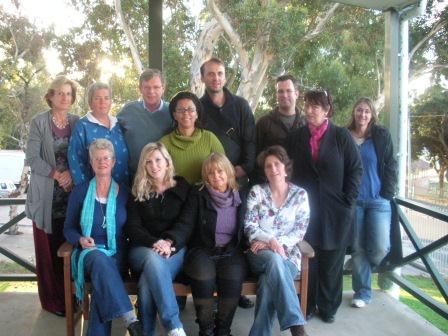 You will recognise my Associates in this photograph of our Coaching Development Team. Karen Pratt is the Comensa affilliated Coaching Development facilitator (bottom left), and there's Luke in the back, and I'm on the bench, (front right). The others are, from back left, the warm Marianne, the dynamic Geila, the gentle James, meticulous Alex, heartfelt Marion, brainy Kerry (of Brain Harmonics!), soulful Lorna in the middle, intelligent Manuela and resourceful Sharon. Missing on that day was Brent the Actor, who is currently on his way to Grahamstown with his wonderfully funny new play "Bench".
This coaching team is available to me wherever I require their assistance in organisational coaching. By the way, take a look at our events calendar in future, to see when Karen is running her next coaching course. I strongly advise aspiring coaches to go with this thorough course.
Sacco Consulting Coaching is either done face-to-face, or via Skype or telephone. Coaches can come to your workplace, or individuals can come to the Coach's premises.